The City of Helsinki has over 56,000 rental apartments with approximately 87,600 tenants. Helsingin kaupungin Asuntotuotanto ATT is currently building about 1,500 new apartments a year. In addition, it annually renovates in full approximately 1,000 apartments owned by Helsinki City Housing Company (Heka).
Since 2018, Helsingin kaupungin Asuntotuotanto has included a Smart Smoke Alarm in the electrical drawings of the apartments it renovates. The alarms prevent electrical fires, which are one of the most common types of fires in apartments.
The city needs to keep its tenants safe and its property in good condition. 'Improving the safety of apartments is important to us. Smart Smoke Alarms provide a cost-effective solution to do this', says Aatte Saastamoinen, who is in charge of electrical design at Helsingin kaupungin Asuntotuotanto.
In Finnish high-rise construction, fire safety is taken into account in many ways, and a fire that has already started can usually be limited to a single apartment. Fire safety in common areas has also been ensured with the aid of alarms and sometimes sprinklers. In apartment buildings, the negligence of one resident can, however, inconvenience many people even if no major personal injury or property damage is caused. A fire in one apartment can lead to the evacuation of several apartments, and smoke damage almost always affects more than just the apartment with the actual fire. The safety and sense of security of residents can be improved with fire prevention devices, such as Smart Smoke Alarms. The residents themselves cannot affect the safety of other apartments, so therefore it is important that the owner and builder of the building pay attention to safety issues.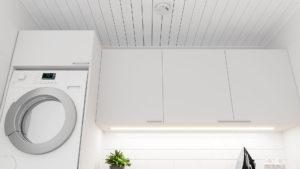 'Today, it is not enough to only have devices that function as alarms when they can do so much more. Smart Smoke Alarms connected to the mains can be used to prevent common electrical fires in homes and avoid worse smoke damage and costs incurred by the fire itself,' points out Jere Putkisaari, Business Director at Innohome Oy, in charge of the Smart Smoke Alarm business.