Innohome, a Finnish manufacturer of smart fire safety devices for homes, breaks new ground by providing international markets with a charging station for electric vehicles that is both designed and manufactured in Finland. The product will be available in Norway in October. Designed for consumer use, it makes charging an electric vehicle very easy.
Norway is a forerunner in electric vehicles, making it a natural target market for the product. There is a particular demand for an easy-to-use solution in single-family and holiday homes.
'Our first product will enter the Norwegian market this October, and demand has been high. Finland and other markets will follow, starting from the beginning of next year. For a product like this, there is a clear demand on the market,' says Innohome's CEO Juha Mört.
Until now, Innohome has focused on smart fire safety products, in which Norway is also a pioneer country and the most important market for Innohome. Innohome's older products have been designed to prevent the most common household fires, such as kitchen fires and fires caused by electrical appliances. In Norway, the need to prevent fires instead of setting off an alarm was understood earlier, and stove guards have been mandatory in new Norwegian homes since 2010.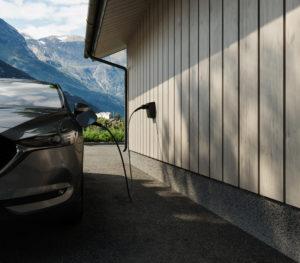 New approach to EV charging
Since Innohome's EV charging solution, which is about to enter the market, is primarily intended for single-family houses and holiday homes, charging was made as easy as possible.
'We wanted to approach EV charging from a whole new perspective since, in our opinion, charging an electric vehicle must be as easy as charging a mobile phone. Why on earth would a mobile phone application be needed for charging when EVs and hybrids already include an app that tells you, among other things, the vehicle's charging status? We wanted to free EV charging of everything that was unnecessary – also in terms of appearance – so the device features stylish Scandinavian design,' says Tero Nygård, who was responsible for product development.
Two thirds of current EV users live in single-family homes, so the ability to charge your vehicle at home is very important. The needs of the target group have been taken into account from the beginning of the design process.
'For consumers, reliability, ease of use, price, and stylish appearance are key. Our solution is Charlie the charging station. An electrician must install the device, but after that using it is easy as everyone knows how to plug the EV into the charging station. Nothing else is needed,' says Nygård.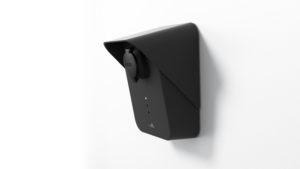 Huge potential in the charging market
Estimates vary somewhat, but probably more than 40% of new passenger cars will be EVs and rechargeable hybrids by 2030. At the moment, the figure in Finland is well below 1%. In practice, this means a truly great need to increase the number of charging stations.
In the Nordic countries, Innohome has become the market leader in smart fire safety devices for homes and is now looking for an equally strong footing in the EV charging market.
'The number of electric vehicles is only starting to increase, and it is important to start operating in the market in good time. We will start with one product, but naturally there are plans to expand the offering in the future,' says Mört.
Innohome in brief:
• Established in 2005, Innohome specialises in smart fire safety innovations for homes.
• The company's patented technology for the prevention of kitchen fires has received several international awards.
• Approximately 90% of Innohome's production is exported.
• The company's most important product area is smart fire safety devices for homes.
• Innohome is the global market leader in stove safety devices.
• EV charging products represent a completely new market for the company.
Additional information:
Juha Mört
CEO
Innohome Oy
juha.mort@innohome.com
+358 40 540 8894
Innohome is an innovative Finnish company established in 2005. The company develops and sells smart systems that prevent kitchen fires and other types of fires caused by electrical appliances. More than 50% of all household fires start in the kitchen. Almost all of them could be prevented with Innohome's Stove Guard. Innohome's patented technology has received several international awards. The company is the industry leader in the Nordic countries, and approximately 90% of its production is exported. The company's headquarters are located in Espoo, Finland.