At Innohome, we strive to provide new innovations and solutions to improve home safety worldwide. Our growing IPR portfolio is a testament to our ability to excel in this area.
We are proud to announce yet another patent granted to Innohome.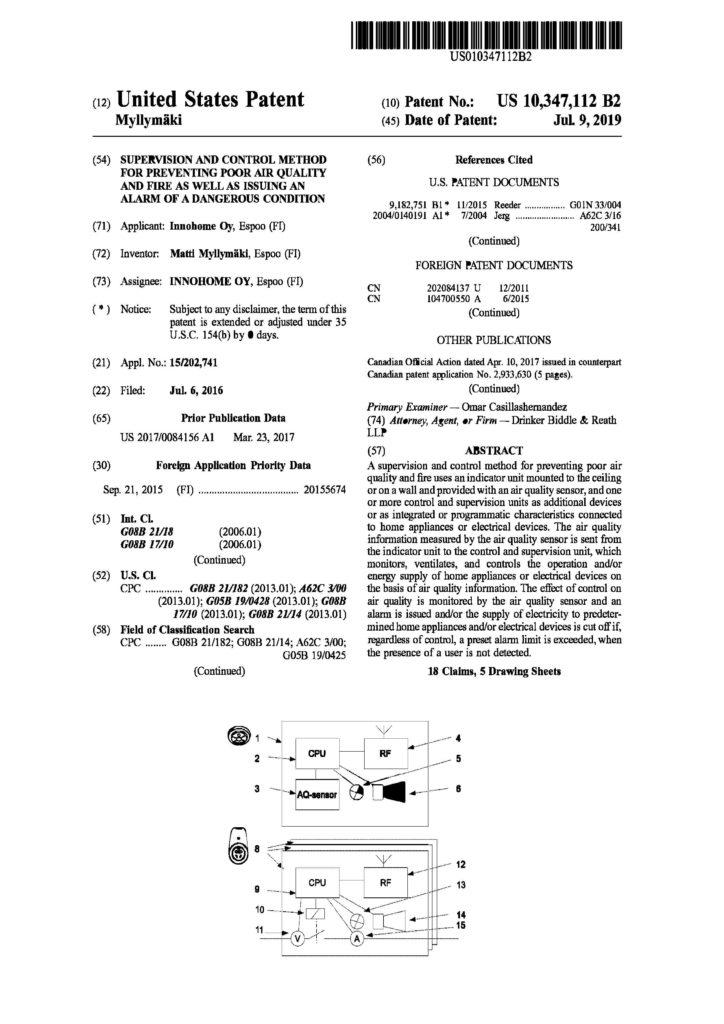 The patent is for (from the abstract):
"A supervision and control method for preventing poor air quality and fire uses an indicator unit mounted to the ceiling or on a wall and provided with an air quality sensor, and one or more control and supervision units as additional devices or as integrated or programmatic characteristics connected to home appliances or electrical devices. The air quality information measured by the air quality sensor is sent from the indicator unit to the control and supervision unit, which monitors, ventilates, and controls the operation and/or energy supply of home appliances or electrical devices on the basis of air quality information. The effect of control on air quality is monitored by the air quality sensor and an alarm is issued and/or the supply of electricity to predetermined home appliances and/or electrical devices is cut off if, regardless of control, a preset alarm limit is exceeded, when the presence of a user is not detected."
Innohome has been innovating and creating IPR for almost 15 years already. Our most important company asset, together with our people, is our IPR.
Juha Mört
CEO, Innohome Oy